news_image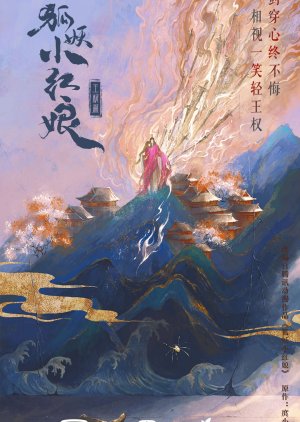 Other Names: Fox Spirit Matchmaker: Wang Quan, Hu Yao Xiao Hong Niang, Tu Shan Xiao Hong Niang, Tu Shan Xiao Hong Niang Wang Quan Pian, Tushan Little Matchmaker King Power, 塗山小紅娘王權篇, 涂山小红娘, 涂山小红娘王权篇, 狐妖小红娘 
Country: China
Episodes: 40
Air Date: 2023
Synopsis: The Yue Hong chapter of the Fox Spirit Matchmaker Series, which tells the tale of Tu Shan Hong Hong of the Fox tribe and human Dongfang Yuechu, both combating to defend the non violent coexistence of the fox tribe and human tribe.
Fox Fairy Little Matchmaker 狐妖小紅娘 is a live-action drama adaption of a manhua set to air in 2023. They had originally wanted Luhan and Angelababy aka Yang Ying to be the main leads. However, that has been scrapped and the leads are now replaced with Yang Mi and Gong Jun.
It was rumored that a lot of netizens have been unhappy with both Luhan and Angelababy, saying that both of them can't act and all they have really going for them is their good looks. Luhan's popularity has dropped significantly after his announcement of being in a serious relationship with his girlfriend, actress Guan Xiaotong. Angelababy's popularity has also fallen after her divorce with her highly popular actor hubby Huang Xiaoming.
Compare Angelababy to Yang Mi, Yang Mi is clearly the most suitable one for the main female lead, Yang Mi has very good acting skills as well as looking youthful and cute. Yang Mi played a very famous role as a fox demon/goddess in the well known and loved C-drama, Eternal Love/ Three Lives Three Worlds, Ten Miles of Peach Blossom. 
Gong Jun's popularity has also risen in recent years and he is well loved by many netizens. They found him to be more fitting for the male lead.
The second female lead is Yuan Bingyan. Liu Shi Shi will also make a cameo appearance.
*UPDATE in July 2022: Yuan Bingyan had a contract dispute with her previous company H&R Century Pictures. The company froze her and gave her roles to other actresses, and her colleagues isolated her during promotions. Historical drama My Sassy Princess <祝卿好> was Bingyan's intended comeback, but her tax evasion scandal has now left her future in limbo. She will most likely not be in the cast of this drama too.